Time to visit the World's greatest automotive museum! Located in the heart of Los Angeles, California. Full of cars from every generation known to man. If you have never been or haven't been, well you are in luck! We have put together a batch of photos of cars that have made a considerable footprint in the automotive world. We won't necessarily start from the beginning but we will plug in a few to keep it interesting. Enjoy a ride in to the past!
After World War II, Los Angeles-based entrepreneur Gary Davis built a radically engineered car with aircraft-inspired styling, concealed headlights, four-abreast seating, aluminum body construction and the simplicity of three wheels. Touted as the car of the future, only 16 of the highly maneuverable vehicles were built in a hangar at the Van Nuys Airport before production was suspended due to poor management and a lack of capital.
---
The EV1 was the first modern, mass-produced electric vehicle (EV) built by a major manufacturer. It was ultra aerodynamic, lightweight, had an acceptable commuting range and could be easily driven by the average motorist. Consumers could only lease (not buy the cars from select dealers in California, Arizona and Georgia. After four years of costly production the EV1 was discontinued and all but 40 we dismantled.
---
Cisitalia was one of several small post-World War II Italian firms to build specialty sports cars using Fiat mechanical parts. The taut lines and low hood of the 202 Coupe's Pinin Farina-designed body set a new standard for automotive beauty. Considered a work of art in its day, an example was famously acquired by the New York Museum of Modern Art after its inclusion in their landmark 1951 "Eight Automobiles" exhibition.
---
 The Aluma Coupe is a one-of-a-kind custom vehicle built by Southern California car designer Boyd Coddington. It was one of the first modern vehicles to combine the style and feel of a 1950s hot rod with the engineering comfort and refinement of a modern car. This aluminum-bodied vehicle was built as a concept car for Mitsubishi to debut at the 1992 New York International Auto Show.
---
One of the first film stars to take a pie to the face for laughs, Roscoe "Fatty" Arbuckle was a multi-talented comedian, actor and director. He was one of Hollywood's first wealthy celebrities, signing a then-unheard-of $1 million contract with Paramount Pictures in 1918. Arbuckle's larger-than-life persona (and bank account) was reflected in his car collection, which included this rare Renault, bodied by Los Angeles-based Earl Automobile Works. Harley Earl, son of EAW founder J.W. Earl, went on to a successful career as head of design at General Motors after working in his father's shop.
---
Based on the book by Stephen King, the film Christine follows a possessed Plymouth Fury That wreaks havoc on the life of its owner and those around him. While a total of 24 Plymouth Furys were acquired for production, this was one of only two stunt cars in running condition used during filming. Coded "Muscle Tow," the stunt car was supposed to be crushed after the movie debuted, but was saved by current owner Martin Sanchez. He used parts from the other Christines to restore the car back to original condition.
---
In Walt Disney Pictures' Herbie: Fully Loaded, the endearing Volkswagen that debuted in the 1968 movie The Love Bug returns, transformed into a NASCAR contender. To make sure the racing scenes looked realistic, the Beetle was modified for the track and equipped with an upgraded suspension, full roll cage, disc brakes and Goodyear racing slicks. One of several Herbies built for the film, this example was the car driven by Lindsay Lohan as Maggie Peyton in the racing sequences.
---
This 1982 Ferrari 308GTSi was the actual car driven by both Tom Selleck and Larry Manetti during the 1982-1983 shooting season of the television detective series Magnum P.I. The driver's seat was modified to fit six foot, four inch Tom Selleck. The seat rails were relocated and the filler material from the driver's seat bottom cushion was removed. The mid-engine successor of the Ferrari Dino, the 308GTSi is powered by a fuel injected 3 liter V-8.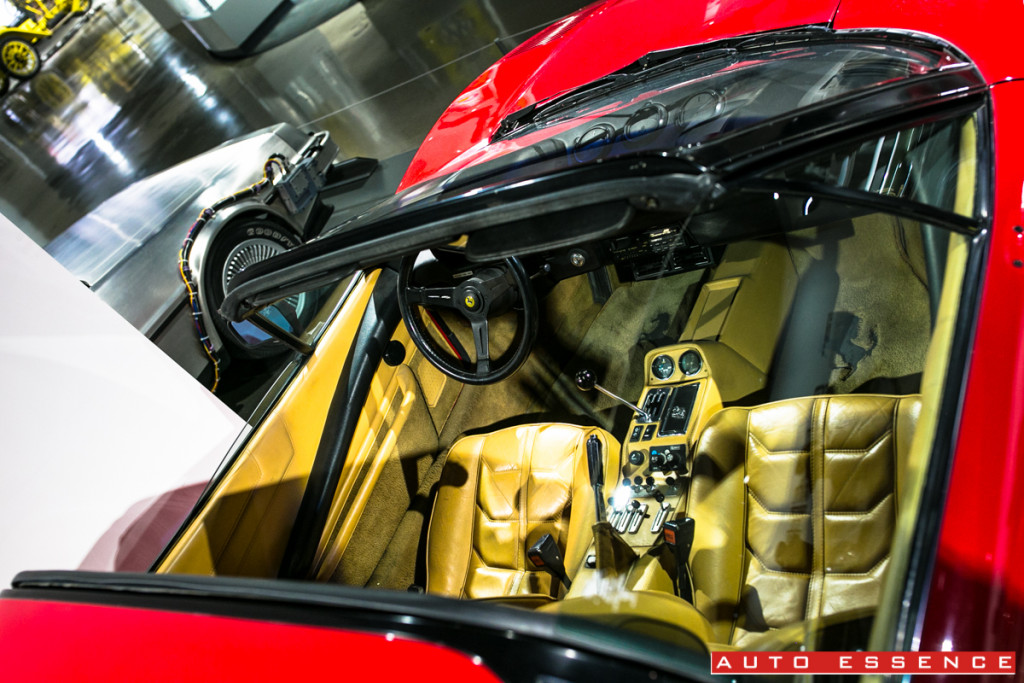 ---
Famous for transporting main character Marty McFly back in time, this was the first of three DeLorean Time Machines built for the original Back to the Future movie starring Michael J. Fox and Christopher Lloyd. After appearing in all three films and spending 25 years as a tourist attraction at Universal Studios Hollywood, the Time Machine showed signs of wearing. A skilled team of fans meticulously restored the iconic car, which included replacing the missing flux capacitor, the key component for time travel.
---
The Mach 5 from the animated television series Speed Racer has been described as the most famous race car in the world, yet it only existed as a two-dimensional cartoon illustration before this fully operational example was constructed. In 2000, this hand-built interpretation of the cartoon Mach 5 completed a nationwide automotive safety tour sponsored by the Child Safety Network. The Speed Racer Motors organization then unveiled plans to build a series of 100 road-ready replicas based on front-engine Corvette platforms, but few were made.
---
Conceived by director Christopher Nolan, the Batpod provided a two-wheel alternative to Batman's usual mode of transportation. It was designed to be operated with the rider in a prone position and features a custom chassis with Hoosier racing tires and a braking system operated by controls on the left handle and right pedal. One of six built for use in The Dark Knight by Christian Bale (Batman), it was later used in The Dark Knight Rises by Anne Hathaway (Catwoman).
---
Almost 20 feet in length, the Batmobile was based on the platform of a 1967 Chevrolet Impala found in London. It was powered by a 327-cubic-inch V-8 Chevrolet engine mounted low in the frame. Rolls-Royce jet engine components were used to form the hood-mounted intake, and turbine blades in the nose piece were sourced from a British Harrier fighter jet. This example was one of five cars authorized by the studio for promotional purposes.
---
Secretly fabricated entirely by hand in the Yamaha factory in Shizuoka, Japan, the 2000GT represented Toyota's earliest attempt to make a sports car that could rival European supercars like Lamborghini and Porsche. The 2000GT was introduced in 1965 at the Tokyo Motor Show and special racing versions quickly claimed three world endurance records. Its performance-oriented, two-liter twin-cam six-cylinder engine produced a remarkable 149 horsepower.